Technology integration and STEM (Science, Technology, Engineering, and Mathematics) learning have been at the forefront of The EdVenture Group's mission since its founding in 2001, and this summer was no different. The organization's early professional development offerings supported educators navigating the integration of technology in their classrooms. Most recently, a 2023 summer camp exposed rural K-8 students to emergent technologies like virtual reality and 3D printing. Regardless of the audience, EdVenture's history of STEM activities have helped foster STEM mindsets and support overall K-12 STEM learning, both of which enhance overall student success.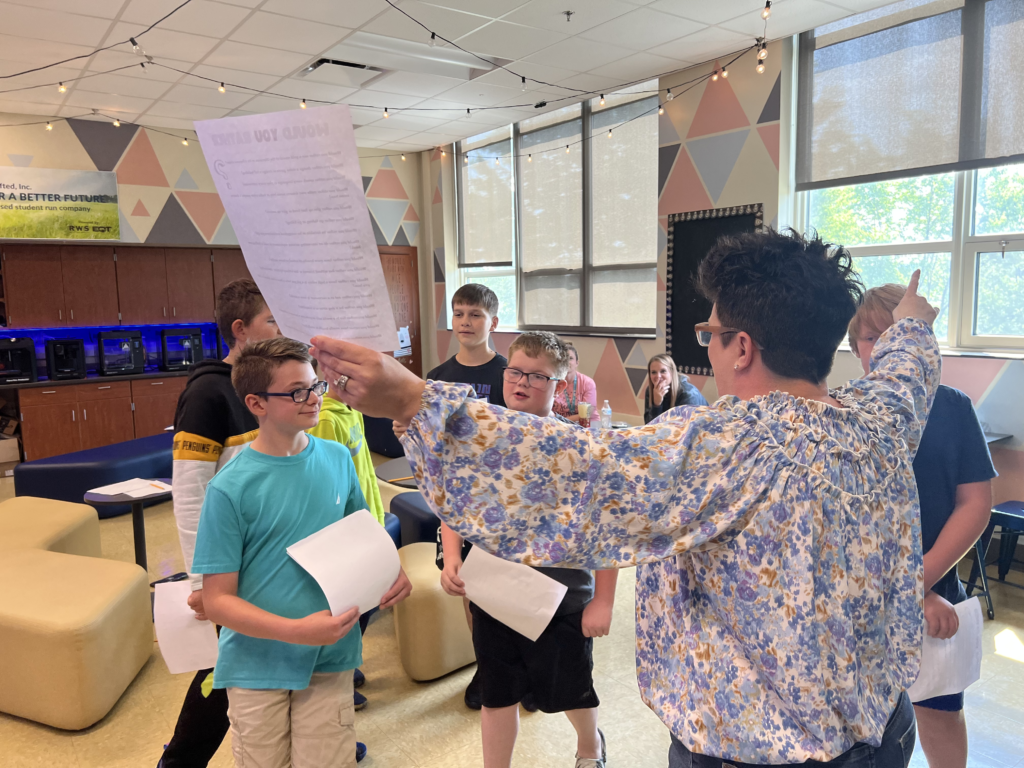 In June 2023, EdVenture's Director of Innovation, Amber Ravenscroft, and Senior Program Manager, Jennifer Wotring, facilitated activities and STEM learning in partnership with the Carmichaels Area School District (CASD) and CASD's K-12 STEM teacher, Nicole Moorecraft. The CASD STEM Camp was an opportunity for early middle school students to learn and experience STEM concepts, practice STEM thinking, and solve community-based problems through experiential learning and hands–on activities.
"Mistakes are the portals of discovery."

James Joyce.
The week began with students gaining a basic understanding of the STEM acronym and "tinkering" with various STEM technologies. While STEM was not an entirely new concept to participants, most had limited experience with its various applications.  To apply their learning, students developed and pitched an idea relevant to their local community using a STEM innovation. Carmichaels Golf Club asked participating students to help them solve the challenge of lost golf cart keys. Each day was filled with activities where students learned and grew in their understanding of creativity, problem solving, design thinking, and innovation. Daily Creativity Kickstarters pushed students outside of their comfort zones and traditional thinking.
Working through the design thinking process can be challenging at times, but the CASD students embraced the challenges before them. "Failing forward" was difficult for some participants to accept, but frequent practice during the week helped the mindset become more widely accepted. Participants' willingness to share their creative ideas grew throughout the week as they gained knowledge of and confidence in their STEM thinking and abilities. On the final day of CASD STEM Camp 2023, student teams pitched their ideas and prototypes to local business representatives and school/county administrators to showcase their learning. One team's idea, 3D printed golf cart keychains with a geo-linked QR code, was adopted by Carmichaels Golf Club as a viable solution moving forward. CASD will bulk produce these keychains for the club moving forward.
By the completion of the camp, 100% of students reported they felt comfortable being innovative and that STEM was important. They also showed positive mindsets toward STEM subjects, showing shifted perception on the difficulty of STEM topics, and demonstrated knowledge gain that STEM learning is about more than just the subjects that build the acronym. When asked their favorite activity of the week, one student exemplified the spirit of the camp in his response – "everything".
About The EdVenture Group
The EdVenture Group, Inc. is a nonprofit organization inspiring lifelong learning at all levels by developing and delivering innovative solutions to obstacles in K-12 education. Founded by a classroom teacher, The EdVenture group provides proven processes, programs, and expertise to students, educators, and communities in Appalachia and nationwide. For more information, contact Amber Ravenscroft, at [email protected] or visit www.theedventuregroup.org.
Meet the Author
Jennifer Wotring, SHRM-CP, serves as Senior Program Manager for The EdVenture Group. Jennifer is a skilled presenter with over 14 years of experience developing and delivering educational programming and professional development to students, staff, and administrators, with an emphasis on out-of-school-time and extended day learning.