In July, Program Coordinator Victoria Taylor facilitated the Nailler Learn2Lead youth leadership programming as part of the Monongalia County Schools Summer Avalanche Program. This year's workshops were held at the Monongalia County Technical Education Center (MTec), with participating students representing South Middle School, Suncrest Middle School, and Westwood Middle School. Students engaged in discussion and hands-on leadership activities on leadership styles, leadership characteristics, core leadership functions, communication, goal setting, and design thinking.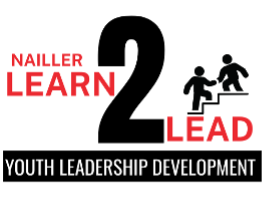 Offering leadership opportunities to youth allows them to develop in a positive environment that promotes personal growth. The program began with a deep dive into leadership basics, including defining leadership, and discussing and reflecting on common leadership characteristics, and leadership styles. Students identified what makes them a leader and discussed their unique leadership approach and their unique interests and passions.  Students gained and applied practical knowledge on effective communication, communication styles, and the importance of person-first language and digital integrity. Students completed their leadership journey by reflecting on their vision and values, testing their comfort zones, and setting S.M.A.R.T goals for their future.
Students also received training to advance and apply their entrepreneurial mindset during the program. They engaged with the Design for Delight process of design thinking to spark their creativity. Under the guidance of Program Coordinator Cameron Keefe, students designed their own invention. Students were highly engaged throughout the process, advancing from empathy to ideation to experimentation.
The Nailler Learn2Lead program provides students the opportunity to reflect on their current leadership potential and gain skills not readily practiced in a traditional classroom. The program provides students a safe, healthy, and positive environment to develop and grow as leaders while engaging with other students in the Monongalia County area. The EdVenture Group extends a special thank you to the Charles R. Nailler Foundation for over a decade of supporting our local youth leadership efforts!
About The EdVenture Group
The EdVenture Group, Inc. is a nonprofit organization inspiring lifelong learning at all levels by developing and delivering innovative solutions to obstacles in K-12 education. Founded by a classroom teacher, The EdVenture group provides proven processes, programs, and expertise to students, educators, and communities in Appalachia and nationwide. For more information, contact Amber Ravenscroft, at [email protected] or visit www.theedventuregroup.org.
Meet the Author
Victoria Taylor, serves as Program Coordinator for The EdVenture Group. Victoria develops and delivers educational programming and professional development to students, staff, and administrators, with an emphasis on prevention and youth leadership.