"Oh, the place's you'll go!" Dr. Seuss
As an educator, I have always heard the phrase "the summer slide". The summer slide is when students lose some of the academic gains made through the school year during the summer break. However, nothing had prepared me for this experience as a parent of a young reader. My family went on our first adventure the first week of summer break and have been bouncing around from summer camps, sports, and trips ever since. One afternoon we arrived at a playground, and Bennett, who just finished first grade, asked me to read what the park sign said. I replied, "Why don't you read it to us?" At first, he didn't want to because he lacked confidence. Through encouragement and some bribery, he started reading the sign. My husband and I noticed that a few words he could not read were ones he could read a month ago. Oh no! Did he lose what he had learned already? The panic crept in. At that point, we knew we needed to act if we wanted him ready for second grade. If the summer slide seems familiar to you, come along on our summer EdVenture with my family as we plan to CLIMB versus sliding this summer.
A few details on my family: my daughter Olivia is five, and her brother Bennett is seven. My husband and I are educators and have always loved a good adventure. From traveling internationally to going to a West Virginia state park, I have learned that there's nothing wrong with having a plan for packing for a trip. I've learned as a parent that traveling with children requires even more planning. One thing that has been consistent about our adventures is that our children need to burn off some energy. Whether it is stopping halfway on a road trip to Tennessee or in the middle of a city like San Francisco, we are looking for a playground with something to slide and climb.
Similarly to sliding down and climbing up, learning to read needs consistency and practice. How do we do that during the summer while giving our children the necessary break from school? Just like planning an adventure, we decided to make a plan to keep building on Bennett's first-grade skills.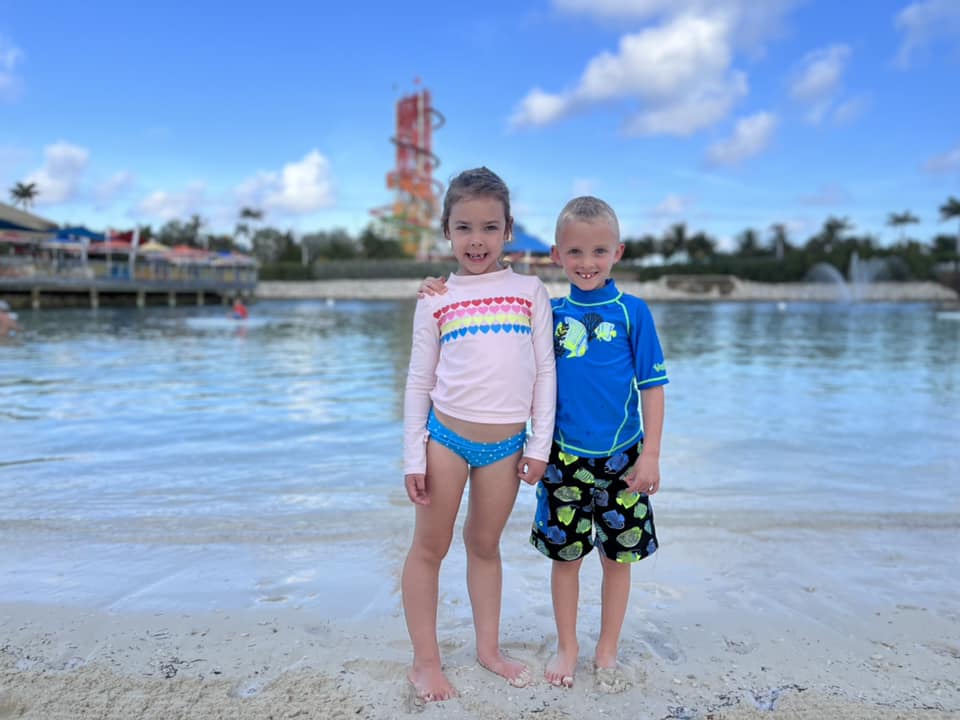 Be Consistent.
Children thrive on consistency. When going on an adventure, it's easy not to be consistent with the habits you have at home. I recently listened to The Ed Mylett Show, Develop Unbreakable Self-Discipline. In the podcast, Ed Mylett discusses how creating habits expands capacity. Many distractions can cause us not to complete important tasks, such as making time to read and learn for children.
How can we be consistent in making time to practice reading skills?
Put it on your calendar.
Set reminder alarms.
Share your plan with your children.
Children are good at reminding us of when it's time for something!
Create a List.
Usually, by day two of an adventure, I am done hearing my children say, "What are we doing today?" or melting down that we haven't done a week's worth of things in one day. So, what do we do?
Sit down and make a list. Let your reader have a voice and list the learning experiences they would like to do this summer.
Do some research together of what events are happening during the summer to add to your list. Libraries and local organizations often add educational elements to their events during the summer.
Post the list so that the whole family can see it.
Making a list may look like making one for the whole summer or just a week or two. Do what works best for your family. Having a plan will help make sure it happens.
Engage Interests.
As we age, we determine what hobbies and sports interest us. Children are no different. They want to do the things they are interested in. Enjoying an adventure is usually because you do something that interests you or with someone you love. This lesson has been hard for my children to learn when going on an adventure together. We all have different interests. Everyone in the family picks one thing they'd like to do for each adventure. We make a list of what day it will happen, and everyone in the family must participate in each family member's interest.
My children have been very interested in listening to us read aloud, but I have rarely seen my son pick up a book and read it to himself. I hope the day will come, because I loved reading myself as a child. Until then, I keep searching for books that interest them.
How do I do that?
Ask them what they are interested in.
Engage with them in what they want to do.
Go to the library together.
Let them choose what they want to read.
Last week we were short on time at the library, and the bookshelves were overwhelming. We decided to ask the librarian at the desk for some help. The librarian could quickly locate books on golf, catching bugs, and going to the beach.
Get Mobile.
Adventures are usually mobile, whether traveling by boat, airplane, car, or train. Good thing reading can be mobile too! Reading doesn't have to be in a textbook or novel. Take reading to the grocery store, car's back seat, or even a hiking trail.
Get moving.
Take reading to the kitchen. Read a recipe and cook together.
Like to be outdoors? Find a plant, flower, or bug book that helps to identify things you find outdoors.
Like playing board games? Borrow a board game from a friend and have your reader read the directions and explain how to play the new game.
Into fashion design? Have your reader sketch some designs and write a blog post about them or design a mock website. Writing counts too! To write, you must read.
Bring those Books.
Yes, some places we stay have left children's books to read in a drawer.  However, most of the time, if our children are going to read, we must bring the books on our adventures. There are plenty of opportunities to read when going on an adventure. Our family first starts by reading a travel guidebook, brochure, or website about where we are going. When packing, the children each pick out the books they'd like to bring to read for the week, and they go into our suitcases, car, or travel backpacks. If you are short on space when packing or even at your house, think of checking out books on your electronic device from the library or buying audiobooks. Listening to audiobooks has been a favorite recently on car rides for us! 
When focusing on climbing instead of sliding this summer, consistently bring the reading with you.
You're off to great places!
Today is your day!
Your mountain is waiting!
So...get on your way!
Whether it's because the weather is nice out, you are traveling, or  you are just short on time, you can still prevent the summer slide by deciding to CLIMB.
Go make a plan. Remember, be consistent, make a list together, find what interests your family, make it mobile, and bring those books along on your EdVenture! 
Just CLIMB!
Meet the Author
Dr. Donna Atwood is a Program Manager and Family Engagement Specialist with The EdVenture Group. Donna completed Marshall University's Curriculum and Instruction Doctorate program in 2023.  Donna has a passion for propelling literacy in West Virginia schools and homes.
Donna has served on the Central West Virginia Writing Project for several years assisting in writing workshops, Young Writers Day, and CWVWP annual Writing Conference. A few of her present interests in education pertain to bringing learning through play into the classroom, family engagement through literacy, and higher-level thinking integration of technology.
.