Meadow Bridge, WV – The EdVenture Group, Inc. has received a $2,000 grant from the Weyerhaeuser Giving Fund for the Pathways to Literacy Project. This funding will enhance community literacy in Meadow Bridge, WV by integrating literacy with outdoor movement and engagement. This pilot project will serve Meadow Bridge Elementary School's 221 students and their families in Fayette County.   
Literacy is a critical factor in future success. The Pathways to Literacy Project helps support literacy education by providing an outdoor experience for students, their families, schools, and the broader community by establishing a StoryWalk®. A StoryWalk® places pages from a children's book as signs along a designated outdoor path. Students, families, and educators can experience reading a book together while interacting with each through guided prompts and sensory activities. This approach of incorporating nature into youth educational and community experiences has been shown to increase emotional well-being, academic achievement, and belonging.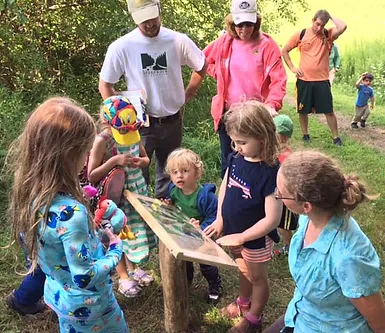 The project is made possible by Weyerhaeuser Giving Fund. In rural and urban settings, the Weyerhaeuser Giving Fund supports hundreds of important organizations and programs in the communities where they operate with funding, time, expertise, and resources. Weyerhaeuser made its first charitable donation in 1903 and has provided more than $255 million in grants through its formal giving program, established in 1948. 
About The EdVenture Group
The EdVenture Group, Inc. is a nonprofit organization inspiring lifelong learning at all levels by developing and delivering innovative solutions to obstacles in K-12 education. Founded by a classroom teacher, The EdVenture Group provides proven processes, programs, and expertise to students, educators, and communities in Appalachia and nationwide. For more information on the Pathways to Literacy, contact Donna Atwood, Project Manager, at dat[email protected]. For more information on The EdVenture Group, visit our website. 

About Weyerhaeuser Company
Weyerhaeuser Company, one of the world's largest private owners of timberlands, began operations in 1900. We own or control approximately 11 million acres of timberlands in the U.S. and manage additional timberlands under long-term licenses in Canada. We manage these timberlands on a sustainable basis in compliance with internationally recognized forestry standards. We are also one of the largest manufacturers of wood products in America. Our company is a real estate investment trust. In 2021, we generated $10.2 billion in net sales and employed approximately 9,400 people who serve customers worldwide. Our common stock trades on the New York Stock Exchange under the symbol WY. Learn more at www.weyerhaeuser.com.